Authors
Neera Mehta
Neera Mehta is a doctoral candidate in clinical psychology at the University of California, Berkeley, and is a fellow of the UC Berkeley Center for the Development of Peace and Well-Being.
Stories by Neera Mehta
By
Philip A. Cowan
,
Carolyn P. Cowan
,
Neera Mehta
| September 1, 2005
When it comes to romantic relationships, empathy is essential, but it isn't always easy, say family researchers Philip A. Cowan, Carolyn Pape Cowan, and Neera Mehta. They explain the obstacles couples face—and how to overcome them.
Most...
May 17, 2017

When a relationship is causing you stress and suffering, follow these five steps to find more peace.

May 16, 2017

According to a new study, your ability to appreciate your partner's strengths is linked to their well-being—and yours.

May 23, 2017

Some critics charge that gratitude is selfish and breeds complacency. But research by Christina Armenta and Sonja Lyubomirsky suggests otherwise.
Greater Good Events
The Greater Good Science Center Summer Institute for Educators 2017
Clark Kerr Campus, UC-Berkeley
Sunday, June 25 - Friday, June 30, 2017 OR Sunday, July 16 - Friday, July 21, 2017
The GGSC's six-day Summer Institute equips education professionals with prosocial learning strategies, tools and processes that benefit both students and teachers.
» ALL EVENTS
Take a Greater Good Quiz!
How compassionate are you? How generous, grateful, or forgiving? Find out!
» TAKE A QUIZ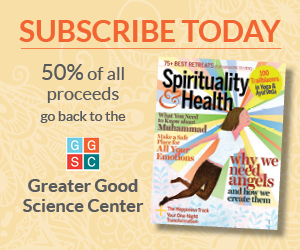 Watch Greater Good Videos
Talks by inspiring speakers like Jon Kabat-Zinn, Dacher Keltner, and Barbara Fredrickson.
Watch
Book of the Week
Roots of Empathy
Mary Gordon explains how best to nurture empathy and social emotional literacy in all children—and thereby reduce aggression, antisocial behavior, and bullying.
» READ MORE
"It is a great good and a great gift, this Greater Good. I bow to you for your efforts to bring these uplifting and illuminating expressions of humanity, grounded in good science, to the attention of us all."
Jon Kabat-Zinn
Best-selling author and founder of the Mindfulness-Based Stress Reduction program
Story Topics
Find the subjects that interest you.